All The Pieces
by Angela Richardson
Genre: New Adult Contemporary Romance
- This review contains mature content, reader discretion advised.
4.5 HEARTS out of 5
Genre: Contemporary Romance
I finished this book and my immediate thought was OH SHIT! My second thought was EXPLOSIVE!
All the pieces come together in this EXPLOSIVE from start to finish final installment in the Pieces of lies trilogy. Never a dull moment in this series, nope not a single one. Angela Richardson will keep you on your toes till the very last page is read in All The Pieces.
In All The Pieces Norah and fiancee are blindsided bringing their plans to a sudden halt. The Lappell refuse to take no for an answer and will stop at nothing to get what they want. Now in Prague facing unforeseen circumstances just when Norah hits rock bottom she gets some very unexpected help from some very unexpected friends. If that's what you want to call them..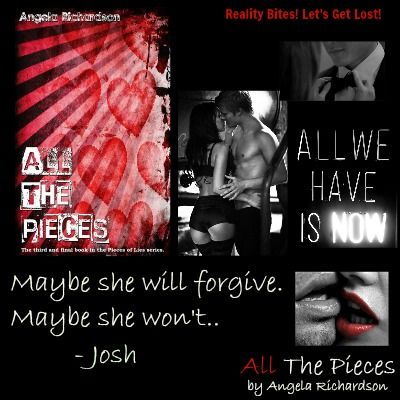 The Truth, the whole truth and nothing but..
He said it..Now it's out in the open…She knows...What will she do? I'll tell you what Norah does, Norah goes BAT SHIT CRAZY with one thing on her mind FIND HIM. Norah takes on her dark side refusing to let anything or anyone keep her from her future. Not even those who claim they are there to help her.
Everybody deserves to have a fair shot
Solving riddles is just the beginning. Now that a world wind of cause and effect has brought Norah face to face with Clint, Samuel and Josh, she must look the truth in the eye and once again decide to whom her heart belongs. But with people still holding in secrets how can be sure her choice is the right choice.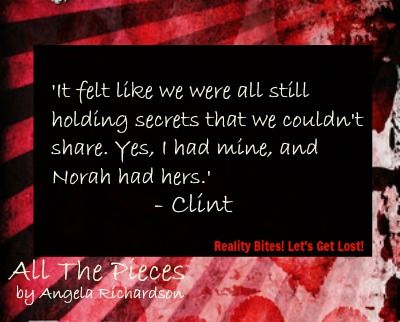 Book highlights

- The Truth, the truth hurts
- More Secrets
- Darkness
- Hide and Seek
- The Lappell
- A party
- Fast Cars
- Fate
- Borrowed Time
- The right to choose
- Goodbye
- David vs Goliath
- James
- Best ending in 2013. Wait is it too early to say that? WHATEVER.
My Thoughts
Fast paced and very well executed, Angela Richardson has a true talent called story telling. She captures readers with lovable and questionable characters with a guessing game that leaves you wondering who the true villain is. She also exercises your brain as you race to solve riddles and put together All the Pieces. EXCELLENT EXCELLENT EXCELLLENT JOB!! And that ending… EPIC!!!!! Best ending to a series I've read in 2013.
My Ratings
Characters- Lovable, Sexy and utterly Irresistible
Writing Style- Fast paced and very well executed
Plot/Storyline- Girl fighting for love and to be free
Steam Factor- Medium/Moderately Steamy on a scale of 1-10 I say 7.5
Overall- I LOVE LOVE LOVED IT!!!!!! I HIGHLY recommend this series!

Now go forth and read. Then come tell us about it!
Series reading order
Pieces Of Lies
Pieces Of Truth
All The Pieces
ENTER to WIN an ebook series bundle of all 3 books in The Pieces Of Lies Trilogy and for those who are already fans you can WIN book #3 All The Pieces
(PLEASE NOTE: This giveaway is open internationally. The winner has the right to choose if she/he already owns the previous book/s. Giveaway ends on 10/31/13 at 12am.)