Conflict
By: M.S. Willis
***Content Warning - This is a new adult fiction with mature themes. It contains graphic sexual situations, mature language and explicit description of sexual violence.***
Conflict is the second book in the Control series. This description contains spoilers for those who have not read book one in the series, entitled Control.
Private Investigator, Paige Stone has always appreciated the independence of her life, however, her world was pitched upside down when she and her roommates were attacked and nearly killed. As a result of the attack by Chris, Paige now finds herself dependent upon Daemon Pierce for a place to live as she hides from Chris. Paige has never lived with a man before and demands that Daemon consider her a "roommate" only, even though it goes against her own desires.
Strong-willed and arrogant, Daemon Pierce has been working hard to protect Paige from Chris and from herself. Letting go of his life as a womanizer, Daemon tries to prove to Paige that she can trust him, even though he refuses to enlighten her as to his past. Daemon struggles to comply with Paige's ridiculous demand to be "roommates" and quickly finds that he has fallen in love with the girl who does nothing but push him away.
Chris is still on the loose and Paige becomes impatient at the amount of time it is taking the authorities to apprehend him. Paige takes it upon herself to hunt Chris down, while still refusing to ask for Daemon's assistance. When Paige discovers a message left by Chris, she devices a plan to locate him while keeping Daemon in the dark as to her plans. Paige's emotional journey once again places her in dangerous situations and when secrets are revealed and decisions are made, Paige has no choice but to look deep within herself to see if she can finally trust the man who will stop at nothing to save her.
Minor Spoilers -mature content reader discretion is advised.
4 STARS out of 5
Genre:Romance Erotica

NOTE: If you have not read book one in this series, Control, then you should probably not read this review because it may contain spoilers.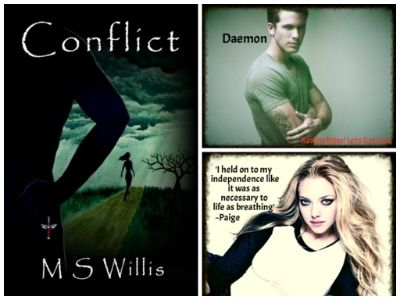 "I'm going to fuck that sassy little mouth of yours, Paige. It's something I've wanted to do since the first time you told me not to call you 'Damsel.'
~Daemon
THAT
is one of my fave lines!LOL!!
LOVES
me some Daemon!!!
M.S. Willis definitely takes it up a few notches in Conflict, the second book in her control series. And I am not just referring to the steam. The suspense and Intensity definitely had my emotions going in every direction.
My girl Paige Stone is used to her independence free unrestricted life. But now she is stripped of her ability to live life and ride her bike free because a psycho serial rapist stalker (Chris) is after her. And though the police are looking for him so far he seems to have evaded them.
In the mean time Paige is staying with Daemon and for some reason she would prefer that he treat her as a roommate and nothing more. The phrase bitch please came to mind when she said that tid bit.LOL! This whole strictly roommates thing causes some seriously pent up sexual frustration to take residence in her body. Both she and Daemon battle out their lustful cravings for one another and let me tell you, that roommate only crap does NOT last long.
Once they finally give in…
Hot steamy sex won't keep a girl happy forever. Being stuck in Daemon's house is not good for a free bird like Paige. Nope, in fact she starts to get increasingly frustrated with the lack of progress the cops are making. That's when the story itself picks up. Paige gets a disturbing message from Chris. That ALONE incites her to come up with an idea and she puts her investigative skills to use to find the psycho serial rapist (Chris) herself. Then she goes and enlists David to help her.. To my surprise he does.
In between all of the good sex and how to catch a killer scenes Paige gets a phone call and she goes to see Annie. For those who have not read this series yet and skipped my note without spoiling it (Annie is her roommate who is dealing with some horrific issues from an incident in book 1). The scene between these two women is
ABSOLUTELY HEART WRENCHING.
I have to admit it's not her smartest move but a girls got to do what a girls got to do. Paige and David move forward with the plan she concocted to catch the serial rapist. Things quickly heat up and I do not mean in a good way as Chris and Paige come face to face.
And a secret that finally ties up the loose end from book one is
FINALLY REVEALED.
My thoughts
I enjoyed the flow of this story more than I did the first. It was good to see the vulnerable side of Paige.
'
I didn't like those scars. They made me feel weak somehow, like I was vulnerable enough to be taken captive.'
For me personally she came off a little too strong in her '
I am woman hear me roar'
attitude. I enjoyed how Daemon tamed her wild spirit by letting her know the threat to her life was real and that to be scared is normal. I very much enjoyed the dynamics between Daemon and Paige. Daemon being the only one who can tame the lioness that is Paige; very nice touch Willis. It's almost as if she held off on commitment and love because she was waiting for Daemon.
I also love the roles both Alex and David played, they are awesome friends! I look forward to book 3!
Special note: This does not end in a cliffhanger
My Ratings
Characters- Lovable
Writing Style- Sexy, with a touch of suspense and at times emotional
Plot/Storyline- Keeps you turning the pages
Steam Factor- High/Very Steamy
Overall- I liked it! READ IT!

Now go forth and read. Then come tell us about it!
*Copy kindly provided in exchange for an honest review*
Jason L Lee is a Florida Native. The arts have always been a big part of his life. Science, nature, and spirituality have been inspirations to him. He started displaying his work in 1993. In 1996 he started to venture from drawing& photography into acrylic painting. This led to painting live with local bands starting in 1998. His paintings are now created mainly at home. He uses a combination of impressionistic and illustrative painting techniques to create fantastical imagery. He is currently a Scenic Artist working for The Nassal Company and Co-Founder of the Arts Hub Organization.
www.facebook.com/JasonLLee
www.facebook.com/JasonLLeeArt
www.twitter.com/JasonlLee8
Dragonfly Necklace Creator:

Verita Bolin
VeritasTreasures.Etsy.com
http://www.rafflecopter.com/rafl/display/8224306/