Ten Books For Readers Who Like Character Driven Novels.
DAMN this was hard. I decided to have a mix for everybody. Two authors I read thrive on character driven novels, therefore they are listed more than once. I've listed Contemporary Romance, Urban Romance, New Adult, Young Adult and A Paranormal.
1.
Commitment by Nia Forrester
This book held my undivided attention! Forrester thrives on character driven stories. In Commitment, she explores marriage and what it means to be and stay committed. The story is told from both the man and woman points of view.
2.
Mistress by Nia Forrester
I recently read this... Self esteem and moving on is the strong theme strewn into this one. In Mistress Forrester shows how a young girl, Keisha, who seems to have it all quickly can lose it all. How she uses her body to make a means as a kept woman to married men. Only when the well runs dry she learns that maybe her lifestyle was not all it was cracked up to be.
3.
One Pink Line by Dina Silver
Incredible.
I love love love this story!

I could not stop reading this book it pulls you in and holds you captive until it's over. It's a very relatable story that will stick with the reader long after reading it. It carries the journey from young adult into womanhood and depicts the ups and downs a young mother faces when faced with being a single parent.
Something you'll want to share with your Mothers, daughters, sisters, aunts and cousins.
I HIGHLY recommend this book to EVERYONE!
4.
Finding Bliss by Dina Silver
A young girls summer changes when she falls in love with a star athlete. Silver, keeps it real as readers follow Chloe through young love, college, marriage and the trials she must overcome to find bliss.
5.
Significance by Shelly Crane
This is actually book one in a paranormal YA series. And while it has strong plot lines that carry it. The journey young Maggie faces after being thrust in to a world she never knew existed is remarkable. Each book showcases her strength as she begins to step in to her destiny. I loved it and I highly recommend it to all YA PNR lovers!
6.
Love, In English by Karina Halle
Sucked in from beginning to end as a trip abroad changes the life of Vera; a single girl and Mateo a very married man. Halle, explores relationships and the outcome of choices made... both good and bad.
7.
The Light in the Wound by Christine Brae
Brae, deals with matters of the heart in this gut wrenching tale.
The light in the Wound is Isabel Amarra's emotional journey and it spans from her childhood to womanhood. I loved this book; It was very up close and personal as far as writing styles go. Annnd you kinda feel like Isabel is personally telling you her story, if that makes any sense.
8.
Arouse
by Nina Lane
There is no big intricate plot. No suspenseful revenge driven characters. You meet two people in love and fighting to stay afloat after a secret from the past surfaces and changes everything.
Omission – to leave out, to neglect, to exclude, to disregard…
When was the last time you omitted information from the one you love? And how do you think they would feel once they knew the truth hidden in the omission?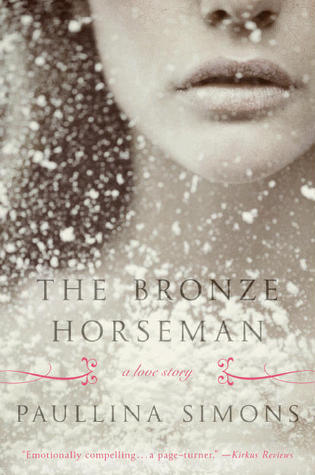 9.
The Bronze Horseman
by Paullina Simons
Strong characters. Strong character growth too! The Bronze Horseman may not be for everyone I know that off the bat. It's gritty, with a lot of history intertwined in to the story. Some won't like that aspect. However, I loved the historical content, it gave the story an intensity that leaves you on the edge of your seat thinking "what will happen next?" The War has it's own starring role as far as I am concerned so much so it could almost be a character itself. The war also brings out all of the characters by enhancing what you will love and hate about them. And the characters in this book are very colorful trust me you will get a little bit of everything.
-Love
–Hate
–Treachery
–Deceit
–Lust
-Lies
–Favoritism
–Ignorance
–Thoughtfulness
–Jealousy
–Selfishness
–Selflessness
-Determined
10.
Leaving Paradise by Simone Elkeles
In Leaving Paradise two characters, Maggie and Caleb come together in the midst of unlikely circumstances and become very close friends. Which is surprising for these two teens because they utterly hated each other. You see, Maggie was hit by a car that Caleb was driving after getting drunk at a party. Do I have your attention yet? *smirks* This book is YA at it's best! READ IT!
Here are my 10! What's your 10?