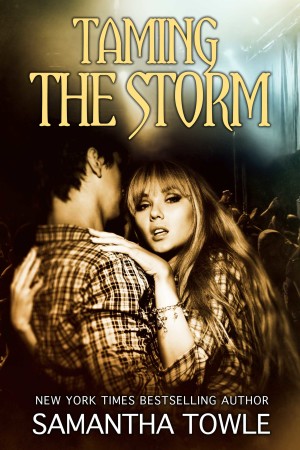 Lyla Summers hates men. Okay, maybe hate is a strong word … Lyla intensely dislikes men.
Her father has let her down her whole life. Her brother betrayed her in the worst way possible. And her past relationship experiences with men have been less than great.
Lyla is focussing all her energy into her band, Vintage, so when they receive an offer to sign with TMS Records, it seems that things are finally turning around for her. The last thing she wants is a man getting in the way.
Tom Carter loves women. Okay, love might be pushing it … Tom enjoys screwing lots of women.
When tragedy befalls his best friend, Tom finds himself making a promise to the big man upstairs – he'll change his ways, if he saves the woman his best friend loves.
Tom's prayer is answered. Now he has to change. Which means no sleeping around.
After Vintage's manager breaks her leg skiing, Tom steps in as tour manager, and Lyla finds herself on tour with the man whore of rock.
Put one perpetually horny Tom and one sex resistant Lyla together, equals a recipe for disaster. Or so you'd think…
But an unexpected friendship is formed. A closeness neither of them expected. Putting one chastity belt and one lamp that is in desperate need of rubbing, to the test.
Will the sex storm that is Tom Carter, finally find himself tamed by the rock chick with a hardened heart, or will he go back to his womanizing ways…?
I would like to start by giving thanks to Jake & Tru Wethers.

If they hadn't re-connected and fallen back in love with each other then we wouldn't be here with Tom.

The untamable Tom Carter.

He made a deal with God when Tru was lying in a hospital bed, he asked for something and promised something in return.

If he saved Tru's life, Tom would change his.

Now he has to keep his end of the deal.
Tom is the bass player in The Mighty Storm, we got to know him a little bit in the first two books in this series and the thing that I could never forget about him was his tattoo above his man parts.

It reveals itself again in this book too :)

Tom is a bit of a babe magnet and he has an insatiable appetite for sex so needs to partake as often as possible.

Such a terrible affliction to have!
Lyla Summers is the lead singer in the band, Vintage.

They are signed under TMS records, which is owned by Jake Wethers.

When the band is left without a tour manager, Jake appoints Tom to step in for the next 6 weeks.

Lyla has met him a few times and he has hit on her but she may be the only girl in the universe

to have said no to him.

Lyla has sworn off men after having her heart broken by her

ex-bf, you won't believe what the douche does to her!

Having Tom on the tour bus is really going to test her willpower because he is insanely hot.

He is well known for being a man whore, she is not interested in being his next conquest .
"My virginia is closed for business.

Virginia is my nickname for my vajayjay" - Lyla
Tom remembers Lyla and damn, she looks good.

However, he has made a promise to change so he will take his responsibility seriously and keep things professional.

There is so much attraction between these two ad the sexual vibes are insane, it just keeps building and I was pleading with them to just get it on (well in my head I was).

I just knew that if they hooked up it would be complete hotness.
"I hate the way my body reacts to Tom Carter.

Every single time I see him, my virginia lights up like gasoline on a spark.

I might dislike him, but my body doesn't.

In fact, my body likes Tom - a lot" - Lyla
Lyla is not a one night stand kind of girl, sex for her is an emotional experience and not just physical so she wants what most women do.

Tom is not like that and he knows Lyla is the kind of girl who deserves more than that.

He doesn't want to spoon after sex, talk about feelings or have a relationship with anyone.

But he does want Lyla.

Will she be the girl to tame the untamable Tom Carter?
There are plenty of other secondary characters in this story,

like the rest of the Vintage band.

I really liked Cale, he is such a sweetheart, you will love him.
For fans of Jake & Tru, we do see them pop into the story from time to time.

This can be read as a stand alone as the background stories are woven well into this book. Loved this book :)
The Mighty Storm (Storm #1)
Wethering the Storm (Storm #2)
Taming the Storm (Storm #3)
He gives a slow shrug of his shoulders. "Never intended to sleep with her. I was just"—Tom rubs his head thoughtfully and then smirks—"putting on a show."
Mother. Effer.
All that in there—he was just doing it to drive my jealousy to the front.
"You-you're a…mother-effing mut!" I hiss.
"

Yeah, and you're the sexiest fucking thing I've ever seen in my life. Sleep well, Firecracker."
Amazon US
|
Amazon UK
|
Barnes & Noble
|
Kobo
|
iTunes US
|
iTunes UK
|
Smashwords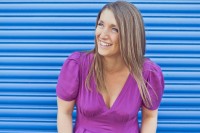 Samantha Towle is a New York Times, USA Today, and Wall Street Journal bestselling author. She began her first novel in 2008 while on maternity leave. She completed the manuscript five months later and hasn't stopped writing since.
She is the author of contemporary romances, The Mighty Storm, Wethering the Storm, and Trouble. She has also written paranormal romances, The Bringer and The Alexandra Jones Series, all penned to tunes of The Killers, Kings of Leon, Adele, The Doors, Oasis, Fleetwood Mac, Lana Del Rey, and more of her favorite musicians.
A native of Hull and a graduate of Salford University, she lives with her husband, Craig, in East Yorkshire with their son and daughter.
---
♥READ THE BOOKS THAT STARTED IT ALL!♥
It's been twelve years since Tru Bennett last saw Jake Wethers, her former best friend and boy she once loved.
Jake Wethers, sexy, tattooed and deliciously bad lead singer, and brains behind The Mighty Storm, one of the biggest bands in the world, left Tru with a broken heart when he moved from England to America with his family when they were both fourteen.
Sent to interview Jake for her music column by the magazine she works for, they are both unprepared for the sparks that fly the instant they reconnect. Only, there's a complication to their instant feelings for one another—Will, Tru's boyfriend of two years.
Then Jake makes Tru a job offer she can't refuse—travelling the world with him and his band. But taking the job means leaving Will behind, and being on the road with the band means spending an inordinate amount of time with Jake.
Is Tru strong enough to resist the delectable bad boy who once held her heart so completely, or will she willingly risk it all for one night with the world's most notorious womanizer?
---
Music journalist Tru Bennett has done the impossible: capture the heart of rock-star bad boy Jake Wethers. Now they're busy planning a wedding and navigating their new life together in the US. Of course Tru misses London and her best friend, Simone, but living happily ever after with Jake in LA is going to be great…right?
Wrong. Even the bright California sun can't whitewash the dark side of celebrity coupledom. Greedy music execs, merciless paparazzi, and Jake's wild past are lurking around every corner. Making matters worse, Jake announces he doesn't want kids, which just may be a deal breaker.
Tru loves Jake more than anything. But when a devastating crisis threatens to destroy everything they've fought for, the couple must face the hard truth: What if, this time, love is not enough?