Release Date:
July 12, 2014
There is a love so fierce it cannot be measured.
A heart so strong it will never slow.
There is a promise so sure it can never lie.
He promised me that love forever.
Even when it wasn't enough.
Forever. Everlasting. Eternal.
There is no measure of time.
No sounds of the ticking of a clock.
Just the rising and falling of the sun.
And our own sense of forever.
But our forever isn't always.

This is the first book in a good while that as soon as I finished..I wanted to go back to the beginning and start all over.
I'm in love with love!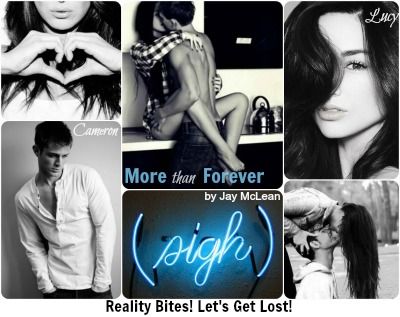 Jay McLean navigates readers on an emotional journey. Full with plenty of ups, downs and shake ups that move you, whether it's to amuse you, bemuse you or just shatter you in to pieces. More Than Forever hits you at all angles: death, life, love, hate, rejection, acceptance and change to name a few.
Unlike the previous books in this series More Than Forever takes you back in time. It starts with a young Lucy, only 15, a girl carrying the weight of the world on her shoulders. A world that is about to be forever changed.

Cameron has been assisting with little league, when practice ends he spots her in the stands, sitting on a bench reading with her kindle in one hand as her foot gently rocks a stroller to soothe baby Lachlan. That's when it happens, thunder bolt, cupid's arrow, love at first sight, whatever it is you would like to call it. He falls and he falls hard.

Cam quickly realizes that not everything is how it seems. He comes to understand that Lucy is going through her daily routine which pretty much has her caring for her younger brothers because her mother is ill and no longer able to do so. She is literally living on auto pilot.

When tragedy strikes he is the only one who sees the real Lucy and it is then that he learns her dark secret. Cam takes it upon himself to help out with the boys. Without so much as a second glance Luce continues to do her part and care for her siblings only now she has help; whether she wants it or not.

With a big heart and a calming presence Cam manages to become a big part of Lucy's life. Before she even realizes it he soon holds a place in her heart. A permanent place. A forever place.

"He's fierce."
His brows rise. "Fierce?"
"Yeah. The way he protects me. It's fierce. He's fierce."
-Lucy talking to her dad about Cam
When I entered Lucy and Cam's
'More'
world I had no idea what to expect, we've only had small glimpses of Cam and hilarious doses of a drunk Lucy in prior books. MTF has you at the forefront of their lives. What I found so beautiful about this story
is
its
two
main
characters
and the ease at which they connected at such a young age.
"You make me want to try." He whispers in my ear.
-Cam
It was said that Cam has a heart the size of the ocean and I must say I totally agree. He was able to take Lucy's crumbling world and rebuild it minus any judgment. Because seeing Lucy at her lowest point made him run towards her
NOT
away.
I really
really
enjoyed the way their relationship blossomed from their teens and carried in to adulthood. It was wonderfully and flawlessly executed. You get the innocence of first love, the tenderness of a first kiss, the loss of virginity, the transition to college, new responsibilities of juggling school, work and a relationship.
All
of these pivotal life changes occur. Each has an impact on their relationship, some good, some not so good.
'As much as it hurts to admit, things have changed. I don't know if its me, or him, or both of us.'
-Lucy
After 5 years of being together Lucy and Cam experience some horrible growing pains. I felt so bad for them. But I also felt that it was captured honestly. What I thought was important during this time is how never..not for one second did I doubt their love for one another. Still, like every other couple they experience challenges. Nothing in life is perfect, right. After all its how we overcome and learn from those challenges in life that truly matter.
Take the journey! Come live, learn and love with Cam and Lucy in More Than Forever!
'Sometimes we talk. Most of the time it's just me talking, trying to make her laugh. Trying to gift my ears with the sound that makes my world stop.'
–Cam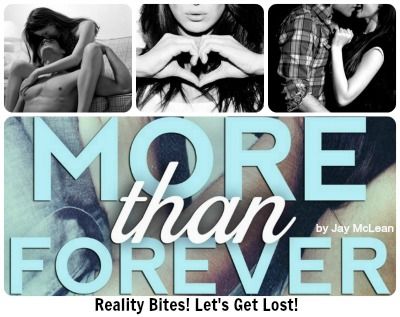 My Sweet and Sour
My Sweet
- My Forever, by Cameron Loves You More Annnnd Lucas!! Jay, give us MORE Lucas!!!
My Sour
- Wellll, it begins with an R ends with a Y.
WAIT! To those who read the book already…Did anyone peep this…how it was said that Tom made the counter higher in the kitchen on purpose…because he was described as tall but that's not why it was so he could sex up his wife. *wiggles eyebrows* GREAT inside joke he shared with his wife. Too cute!
My Thoughts
I LOVED IT! If I had to describe the writing I would say it's beautifully written, fantastically witty and totally raw. Although Lucy suffered a big loss in More Than Forever it did not over shadow the story. Jay McLean manages to find a balance also nothing drags along. Just when I thought the book was about to slip in to a predictable story line McLean hit the brakes and
surprised
me. That scene when Cam finally puts two and two together....
One thing about McLean's style is that she likes to show case relationships. Not too many authors have the ability to write in the parents
the way
McLean does. She makes you wish your parents were that cool. And if your parents are already that cool, well, you're just that damn lucky.
Smart mouth Lucy? I felt like she was in and out. Sometimes I'd expect something crazy to fly out her mouth and then I'd remember most times she was drunk when that happened in previous books. In MTF we get to know the many sides of Lucy.
NOTE: I've added a link to my recent interview with author Jay Mclean, in it we discuss her characters. Who was the most fun to write? Will Heidi's story EVER be told? And what was her biggest challenge while writing
this book?
Find out in the link posted below.
My recent interview with Jay McLean:
http://realitybites-letsgetlost.blogspot.com/2014/06/author-spotlight-interview-and-giveaway.html
My Ratings
Characters-
Lovable, Sweet and Witty
Writing Style-
Beautiful and Raw
Plot/Storyline-
A love story with two teens as they go from youth to adults facing life's many challenges along the way.
Steam Factor-
High/Steamy on a scale of 1-10 I say 7
Entertainment Level-
High, I found myself enthralled!
Overall-
I LOVED IT!!! READ IT!!
Getting out of my hold, she walks back to the bus. She sticks her head inside and looks around before turning to me. "The day you get your license
…" She takes two steps to cover the distance between us. "You pick me up and take me somewhere secluded, and we make out in the back. For hours."
My eyes go huge and I slowly nod. "That can be arranged."
She smiles. "And I'm talking full on making out, Cameron. I mean, I want you shirtless and horizontal." I try not to look down at my shorts; positive I'm sporting a semi. She continues, "And I want to be shirtless and you better be touching boob."
She giggles, and then crosses her arms over her breasts. "Deal?"
I think I agree, but I can't be sure, because now all I can think about is boob. I place my hands on her waist and gently push her until she's against the bus.
Her hands go to my hair, tugging a little, and bringing me closer to her.
When she finally loosens her hold, I pull back.
She kisses me once, and then sighs. "You really bought this bus, huh?"
"So that you can help me out with my brothers?"
I nod again. "Of course, Luce, you're my girl. It's my job to take care of you."
Her eyes glaze over with tears again.
I wanted to kick myself for making her cry. But before I can say anything, she wraps her arm around my neck and brings me down for another quick kiss. She pulls away and says, "I really like you, Cameron."
"Yeah," she says dreamily.
And then my heart begins to race.
And all I can hear is the blood pumping in my ears.
"Good," I respond, and then inhale a huge breath. "Because I'm kind of in love with you, Lucy."
Her eyes bug out. Her jaw drops to the floor. "What?" she breathes out.
I lift my chin and fake a confidence that doesn't exist. "You heard me."
It's the longest three seconds of my life.
Then finally, "Cameron, I love you so much."
Five weeks, three days and eight hours later, I touch boob.
**LIMITED TIME ON NOOK AND IBOOKS**