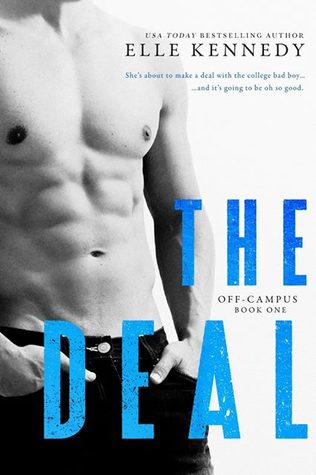 This book was rated 'G' for GOOD!
4 HEARTS out of 5
Genre: New Adult Romance
That DELIGHTFUL feeling when you find a witty fantastic read…

I enjoyed The Deal, its that classic read where boy asks girl for tutoring and because of who he is he thinks he's got it in the bag ONLY he doesn't. Girl turns boy down and boy is persistent so he refuses to take no for an answer. Because boy is smart he pays attention to what catches the girls eye and devises a plan to make them both get what they want ONLY it backfires. Now boy really wants girl and he has to prove to her that she wants him too!

'Something's happening to me. I can't stop kissing him. He's too addictive. And even though this might have started with me somewhat in charge, I'm no longer in control.' -Hannah


My Thoughts
I saw a friend post a small excerpt from this book on facebook and it had me laughing so I immediately went to 1-click! Garrett and Hannah clicked from day one even though it comes across as irritation on her part… In my opinion she was the yin to his yang from the start!

Why the book worked for me
I got dual points of view
I got some cute sexy times
The lead was a fun strong heroine
The male lead was cocky yet had his sweet moments
Despite the male lead, Garrett being coveted by the campus female population Hannah was able to resist a lot longer than I would have ;)
And last but not least, there was a splice of darkness tucked in the story and still my two leads are victors!

Overall , I thought the book was fun, fast paced and gave great secondary characters. I look forward to book 2, The Mistake!

My Ratings
Characters- Sweet, Sexy with tons of witty banter
Writing Style- Good
Plot/Storyline- A deal is struck between Garrett and Hannah in order to help Hannah catch another guys attention. Only Garrett decides he wants Hannah alllll for himself!
Steam Factor- Lo-Med-Hi I say High, On a scale of 1-10 I say 7.5
Entertainment Level- On a scale of Lo-Med-Hi I would say HIGH, I was very much entertained!
Overall- I L O V E D IT!!!