SPOILER FREE REVIEW -mature content reader discretion is advised.
4.5 HEARTS out of 5
Genre: PNR-Urban Fantasy
In Logan's words… Holy cock sucking gods of mercy,
I LOVED THIS BOOK!!!!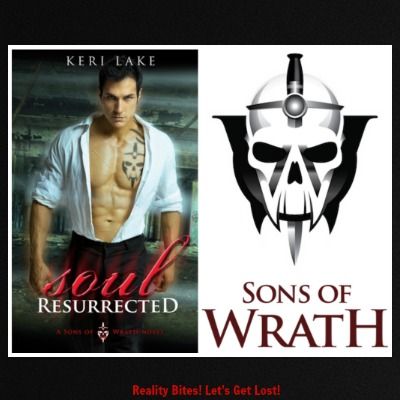 Reading PNR is like going home for me; PNR started this whole book obsession that I wear like a badge of honor. Keri Lake has written a
SUPERB
2ND installment in her Sons of Wrath series. You get action, romance, a strong H/h and of course you meet some interesting characters whom I know will make future appearances in the series.
"For most females I'm relatively harmless. But it seems my nightmares have an affinity for you—evil seeking out purity, or some shit. I got an addiction to your scent, your touch, which has rendered me somewhat mad, you could say."
-Logan
In
Soul Avenged
we met Logan, son of Wrath and Calla a female Alexi(the Alexi is an army of soldiers bred to slay lycans.) You quickly learn that Logan is a wild card, you never really know what to expect from him, he is cocky, short tempered and totally unapologetic. Oh and just like his older brother Gavin he possesses a charm that leaves you wanting more..
'My shield was impenetrable. Impenetrable.'
– Logan's inner monologue
Logan does something in Soul Avenged that positions Calla as his savior and a "bond" is formed in the process. When Soul Resurrected opens, Logan is learning just how tight the new bond has formed and he is
NOT
happy about it. This in turn causes him to push Calla away.
Soul Resurrected
Hate and vengeance
The hot as all hell demon getting under her skin is the least of Calla's worries. What she wants is vengeance against those who betrayed her and she has every intention of getting it. Attempting to put the pull she feels towards Logan out of her mind is easier said than done. Especially when said demon gives in to what is right in front of him.
'Touched.
He'd actually felt her fingers—registered in both his body and his mind.
It'd been years since a woman's fingertips had penetrated the numbness.'
-Logan
Logan's back story is revealed methodically throughout the book. You slowly get around to why he has been
so
numb for
so
long. It literally had my stomach in knots.
"Pain and punishment have long been friends of mine. I'm not afraid to surrender myself to them. Without you, I'm like a spinning fucking compass, with no direction. I need you."
-Logan
"Queen protects the King, Remember"
-Calla
FAVE LINE
(I have many but I chose ONE)
"Every man has the potential to be dangerous." Her eyes drilled into Calla's.
"Threaten what's theirs, and they all become killers."
-Ayden
The Sons of Wrath
Wrath Demons: Warriors of vengeance; sons of the demon prince, Wrath; punishers to those who've wronged; each specializes in a form of mental or physical pain
Now, I'm not positive but I think they all possess gifts. Though only a few have been mentioned
Gavin-
is the eldest son of Wrath and he has visions of the future. Gavin is also my FAVE brother
Logan-
I believe is the youngest brother and he has the ability to feel/sense sins
Calix-
is half Incubi he can feed off sexual energy and being half Incubi also comes the ability to erase memories
Zayne-
is a soul seer, he has the ability to tell if one is lying and more though I do not have details.
Zeke-
I do not recall a gift being mentioned for him,
yet.
He is also a twin, Zayne's twin.
Ferno –
well like his name he can cause a fiery blaze taking out all in his path.
Mad Dog -
I do not recall a gift being mentioned for him,
yet.
My Thoughts(Careful readers some may see this as spoilery though I do not give specifics)
There are quite a few open character story lines; the one that intrigues me most is Gavin's and not just because he is my favorite brother. He has two situations to contend with and I am extremely curious to see how each will play out.
Then we have Calla, I get the feeling her story is far from over and it is possible she will play a bigger role in future books.
Then there are these key players; some we met in book one(Soul Avenged) and some are new.. However each will most likely have recurring roles in future books.
Key players –
Lyric, Marrick, Matthias, Sabelle, and Cefirina.
WAIT. I almost forgot about Ava, definitely can't wait to see what happens with her.
Another issue..
The Sang?
What role will they play and are they evolving in to a bigger problem, most likely. So the real question is how will this affect the son's of Wrath.
Overall thoughts
EXCELLENT world building!!! I think Keri Lake did an AWESOME job, she held my complete attention the entire book and I did lots of highlighting, lol! The story is creatively layered, with multiple pov's and multiple story lines that are masterfully weaved together. I also felt like at one point Lake took a risk with Calla's character...sooo like I mentioned before there will be more for Calla I'm sure.
The only downside is I wish we got a little more Ayden and Kane.
Soul Enslaved (Gavin's book) is one of my most
HIGHLY
anticipated books for 2014
My Ratings
Characters- Sexy, Lovable and Mysterious
Writing Style- Top notch! Sucks you right in!
Plot/Storyline- Strategic, Layered, with a touch of mystery! Definitely leaves you wanting MORE!
Steam Factor- High/Very Steamy on a scale of 1-10 I say 8.5
Overall- I ABSOLUTELY LOVED IT!!!!

Now go forth and read. Then come tell us about it!
Keri Lake is a married mother of two living in Michigan. She writes paranormal romance, urban fantasy and loves a good, tragic love story. Though novels tend to be her focus, she also writes short stories and flash fiction whenever distraction manages to suck her in to the Land of Shiny Things.
When she isn't toiling away on plots and protagonists, she enjoys reading, music and travel. If she could create mystical powers for herself, she'd have the ability to flash to anywhere in the world. And if she could flash to anywhere in the world at this very moment, she'd be staring at the ocean from her adirondack chair on the shores of North Carolina.