Madden-Mills fell in love with her beautifully flawed characters in
novella to the book, featuring the story of football star Cuba Hudson and
ballerina Dovey Beckham.
Health Awareness Month, all May proceeds from the sale of the novella will be
donated to
Keith Milano Memorial Fund which benefits the American Foundation for Suicide
Prevention (AFSP).
Beginnings
Toski Covey
Stein at Perfect Pear Creative Covers
Milano Memorial Fund was established to help raise awareness about the
devastating and deadly disease that is mental illness. Keith's spirit and
laughter is kept alive through our efforts to increase awareness about mental
illness and to raise money for education and imperative research. Keith often
struggled with society's perception of mental illness. Our hope is that
by having the strength to say that Keith was "Bipolar" we can strip away the
stigma and help others to be more open about their disease.
Milano Memorial Fund benefits the American Foundation for Suicide Prevention
(AFSP).
not-for-profit organization exclusively dedicated to understanding and
preventing suicide through research and education, and to reaching out to
Beckham is a scholarship student at Briarcrest Academy, determined to prove
she's more than just a girl with the wrong pedigree. She does whatever it takes
to succeed in her endgame, even if it means surrendering her body but never her
all her well-laid plans. Suddenly, the girl everyone thought unbreakable might
just shatter.
star football player. With his fast cars and superficial girlfriends, he lives
the high-life, hiding his secrets from the world.
something he's never tasted…love.
easy…especially when dirty money, past sins, and old flames threaten the very
fabric of their lives.
Cuba Hudson is famously nicknamed Hollywood by his class mates at Briarcrest Academy. His friends all think that his life is 'perfect' They have no clue. Cuba's dream is to help people by becoming a doctor; he loves football and is well known for his position on the field. He's all smiles and a big flirt at school yet it's all a facade. The real Cuba lives with guilt, regret and pain and it runs
deep
.
NOTE: If you've not read the prequel to this story I highly suggest you do. I do not think you should read Very Wicked Things without reading Very Wicked Beginnings.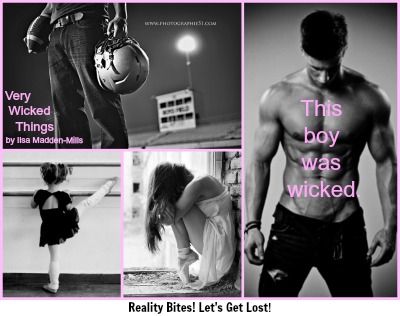 "Everyone says you're pretty good on the field. That no quarterback is safe."
-Dovey
A Very Wicked Beginning:
Cuba is out on the football field when he looks up and spots a girl in a window performing a ballet piece. It's the day his life takes a turn in a direction he never expected it to take. Cuba finds himself falling for a girl he does not even know. He's positive that she does not run in his circle of friends. Still, he's sure that he has most likely seen her before yet never acknowledged her presence.
'Cuba was part of the beautiful people. I wasn't.'
-Dovey
Dovey Beckham is attending Briarcrest Academy on a scholarship. Unlike the other students Dovey does not have wealthy parents; she does not live in a big fancy house or have tons of money at her disposal. No, Dovey has fought and earned her place as a ballerina at Briarcrest. As a matter of fact Dovey has been fighting her whole life just to survive.
'Cuba Hudson, the hottest, richest, most popular guy on campus looked as broken as I felt.'
-Dovey
As I hinted at before Cuba's home life is far from perfect. It's more like a slow deteriorating..crumbling to the ground on which it once stood brick wall.
Cuba saw something in Dovey that day through the window of the ballet studio and he begins his quest to get her to agree to go out with him. She's not really feeling it though and could care less about who he is. It takes some coaxing but Dovey finally gives in to him only to have her heart broken.
Cuba turns in to king of the assholes and I did not really like him for a minute there. I felt for Dovey, I truly did. He was a complete douche and it hurts. Then Dovey spots him, catches the look on his face and realizes that there is more to it then she may have thought.
Unfortunately that concern she felt towards him only lasts but a split second before she goes back to hating him with a passion all over again.
But does she really hate Cuba? I think not, home girl is ANGRY.
And Cuba? Well he seems to be in denial.
Dovey represents love and hope, something Cuba lacks but in her he sees it clear as day and believes it to be attainable.
' Between the day we'd met and today, we'd been irrevocably changed, altered into adults before our time.'
-Dovey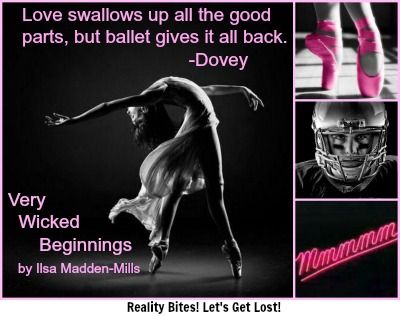 My Sweet and Sour My Sweet
- The Porsche, Dovey and Cuba in the front seat. No other words necessary!
My Sour
- The scenes when Cuba is not being nice to Dovey :(
My Thoughts
I fell hard for these two. Both Dovey and Cuba are very realistic characters that make mistakes and react to situations in a way that only a 17 and/or an 18 year old would..Thinking you have no choices, no resources and no one to really count on. Yeah, that freaking sucks. I found it gripping how these two are seemingly opposites...were Cuba gave up and became numb to his feelings Dovey fought and refused to
not
feel anything. Instead she took what she felt and used it. Overall, the story was intense, at times sad, undoubtedly stirring and written very well.
My Rating and Why
4.5 STARS! I loved it! The story was emotional and filled with plenty of up's and down's. The writing is good. Ilsa Madden-Mills was not scared to take risks with her characters and I admire that in an author. It also makes a sub plot twist 10 times more interesting when an author takes such risks.
My Ratings
Characters- Lovable
Writing Style- Favorable
Plot/Storyline- Girl meets rich boy and denies him, he pushes for her to give him a chance only to break her heart because he is hurt and he fears love
Steam Factor- Medium/Steamy On a scale of 1-10 I say 6.5
Entertainment Level- From Lo-Med-Hi I say Medium, I was engrossed in the story
Overall- I loved it!
My Recommendation : READ THE BOOK!
Now go forth and read. Then come tell us about it!
* Copy kindly provided by the author for an honest review*
read the first book Very Bad Things?