Title: Girl on Tour (Kylie Ryans #2)
Author: Caisey Quinn
Genre: Romance
Age Group: New Adult (MA 17+ Content)
Release Date: August 27, 2013
An up and comer trying to make a name for herself...
KYLIE never expected to be stuck on a tour bus with a pampered princess and her boyfriend's ex.
A troubled artist struggling to hold onto his career...
TRACE thought he was finally getting to do things his way. Until the label added co-headliner Gretchen Gibson, the only person in country music with more issues than him, to his No Apologies tour.
Surrounded by tabloid rumors and people they can't trust, Kylie and Trace need each other more than ever. But the choices they make will change everything.
Because chasing your dreams and following your heart don't always lead you to the same place…
SPOILER FREE REVIEW -mature content reader discretion is advised.
4.5 STARS out of 5
Genre:New Adult Romance
Book #2 in Kylie Ryans series
I LOVE THIS SERIES!
Caisey Quinn's writing definitely hits the spot and will leave traces of a glow showing the path it took to get to your heart. With that being said, I consider this series a 2013 MUST READ!

Kylie is the girl you fight for, fight with, and fight alongside of.
I LOVE THIS GIRL!
At 19yrs old she is starting to blaze a trail in the country music world. She is dating Trace Corbin a huge country music star with a playboy reputation yet best known for his bad boy ways.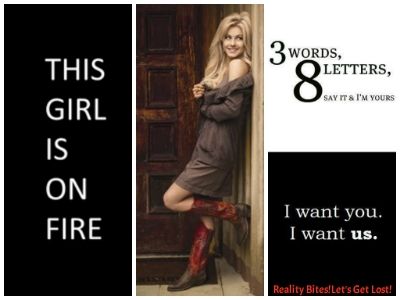 Small recap no spoilers
In book one Girl with Guitar, we watch as Kylie becomes well known after a video of her singing alongside Trace goes viral. She is then asked to go on tour with him as his opening act. A tour that is already in progress that has lost its other opening acts due to Trace and his inability to stay sober and actually give a damn.
Long story short, things take a turn after Kylie becomes determined to not let him end her career before it starts. Sparks ignite and the two become a couple.



In Girl On Tour Kylie goes on tour with Lily a 16yr old singer making big waves and Mia…The chick..well… I can't tell you, you'll have to read to find out exactly who she is. While Lily is sweet young and boy crazy, Mia is just a plain old bitch.
While Kylie is away she and Trace keep in touch with texts, phone sex and Skype.
Everything is going good then
BAM.
Trace who is fighting to keep his career afloat is told he will be touring with Gretchen Wilson aka the female version of himself.
FAVE LINES that made me laugh, sweat, cringe or get teary eyed.

"Bitch meet Line, cause you just fucking crossed it" ~Kylie

"..Just…I wish I could find that. Someone to love me like that—even though I'm damaged goods." -Gretchen

"Oh God, you're so deep." She rocked her hips slowly, not at all anxious to put any distance between him and that spot inside of her he was hitting perfectly. Her body turned to liquid as desire spread quickly through her. -Kylie

'We're about to fuck outside. Up against the barn. Surely that's gotta count as wild sex.' Inner monologue of Kylie

"Oh, so now you want my input. Five minutes ago you were bending me over this table without the courtesy of lube, but now you need my advice?" -Trace

"Yeah? Those wenches giving you hell? Need me to cunt punch one of them? Or both of them?" -LuLu


My thoughts
Readers will fall head over heels in love with Kylie, Trace, Gretchen, Mia and Lily. The secondary characters shine as you get small glimpses of who they really are beneath the famous masks they wear. Quinn will undoubtedly leave you wanting to know more. And Kylie vs Mia will have you grinning from ear to ear like a Cheshire cat.
Kylie is a strong loving heroine who speaks her mind and stands for what she believes. She is mature yet in other ways so young and still growing and coming in to herself. Her female intuition at 19 was pretty strong the only problem is at times she also handle things like a 19yr old. She couldn't help it though everything is a first for her. First real relationship, first all girl tour she is learning by experience and dealing the best way she can.

Trace. I am in love with this man he is sexy, sweet and can make you squirm in your seat.*wiggles eyebrows* He is also an addict and I cannot go in to further details without spoiling it. DO NOT MISS OUT. READ THE BOOK.
My Ratings
Characters- Loved every character! Yes, even Gretchen and mean ass Mia.lol!
Writing Style- Excellent!
Plot/Storyline- Two lovers fighting to be more and overcome obstacles in life.
Steam Factor- HOT/Very Steamy
Overall- Loved it! READ IT!!!

Now go forth and read. Then come tell us about it!
*Copy kindly provided by the author in exchange for an honest review*
Amazon | Barnes & Noble | Kobo
Caisey Quinn lives in Birmingham, Alabama with her husband, daughter, and other assorted animals. She is the author of several New Adult Romance novels featuring country girls finding love in unexpected places. She is currently working on Girl in Love, the third and final book in the Kylie Ryans series.
Hosted by