"Top Ten Tuesday"
is an original featured post created at The Broke and the Bookish.
Top Ten Books

That Were Hard For Me To Read for Various Reasons...The Good ones I kept turning the pages of, The Bad ones I finished out of curiosity and The Ugly ones I DNF'd.
The Bad ones I finished out of curiosity
1. The Vampire Diaries by L.J. Smith- I stuck it out for the first few books however I have no clue why. I disliked the characters and the plot could not hold me. To be honest...I only started the books because I was watching the series and I became curious. Needless to say, I still watch the series. Faithful fan from day one, the books on the other hand are not for me.
2. Forget You by Jennifer Echols- I was in a strong YA Romance phase when I bought this one. I read it years ago and I don't recall much about the story line other then there being missing memory, a car accident and a HOT guy on crutches. I failed to connect with the heroine so in the end this book fell flat and I only finished it because I wanted to know the ending.
3. Sweet Giselle by Karen Williams - THIS. BOOK. WAS. NOT. FOR. ME. It started good and took a major nose dive...It had vile things in it that turned my stomach. I can't even believe I finished it. Hard read? DEFINITELY. And that's all I have to say about that.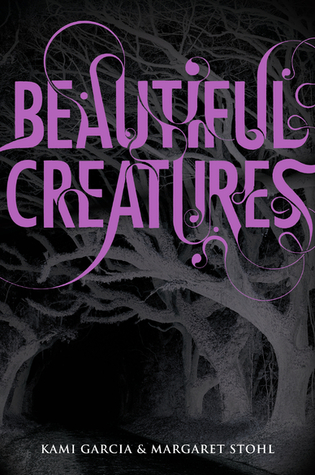 4. Beautiful Creatures by Kami Garcia & Margaret Stohl - While an intriguing story that held my attention for over 400 plus pages. It had some very slow moments that would occasionally bore me. Hard read? Hell yeah. I only trucked through due to my curiosity but by the end I decided it was not worth me continuing the series. I'm glad it became a movie. The movie did NOT bore me.
The Ugly ones I DNF'd
5. Bitten by Kelley Armstrong - Sadly, even in my wolf loving PNR phase I just could not get with this book, the story did not hold me and it resulted in me calling it quits. Hard read? Yes. I DNF'd I it. I also tried the television series when it came on cable, but still it did NOTHING for me.
6. Splendor (Book #4 in Luxe series) - What a wonderful series by Anna Godbersen! I truly LOVED and thoroughly enjoyed each book in this series. Unfortunately the last book turned in to a BIG FAT DNF because some douche on Goodreads ruined the ending by failing to mark their review as a spoiler. Needless to say it was a hard read. So I decided to not finish out of pure anger of already having the answers I would seek out while reading.
The Good Ones I kept turning the pages of
7. Moth To A Flame by Ashley Antoinette - So many things happened..So many emotions.. I had a hard time finishing this book because the author took a risk in her writing. A twist. and I never saw it coming. I enjoyed the book but when the BOOM HIT. I had a very very hard time getting over it.
8. Taking Chances by Molly McAdams - I've gotta be honest this book took the fear factor out of me that's for damn sure. A hard read? Hell to the YES. It has a major twist. Yet, I found I was no longer afraid of the possibilities of what could go down in a book. It gave me an 'anything can happen out look' which I still carry to this very day.
9. Avoiding Commitment by K.A. Linde - First of all I should just say that I love this series. Second I want to say that I HATE JACK. He and Lexi both made this book an extremely hard read for me. Not sure how I got through it without breaking heavy objects with the ability to shatter in to tiny pieces.
10. Arsen by Mia Asher - A hard read? Ummm..Yes. I mean really...when a book has a blurb like this
One glance was all it took…

I'm a cheater.
I'm a liar.
My whole life is a mess.

I love a man.
No, I love two men…
I think.

One makes love to me. The other sets me on fire.
One is my rock. The other is my kryptonite.

I'm broken, lost, and disgusted with myself.

But I can't stop. This is my story.
My broken love story.
Expect to have your heart ripped from it's chest cavity, o
kay.
Well, here is my list and trust me I down sized cause there are a few more but these were...Let's just say these were most memorable.
Tell me some of your
'Books That Were Hard For Me To Read for Various Reasons...'