Trace Corbin was bad for her. Bad for her heart, her body, and her career. She lost all sense of reason when it came to him. That wasn't something she could afford to do in this business.
-Kylie, Girl In Love
Series Recap
In book one
Girl with Guitar
, we watch Kylie become a star after a video of her singing alongside country music's bad boy Trace Corbin goes viral. She is then asked to join his tour with as his opening act. A tour that is already in progress by the way and has lost its other opening acts. Trace and his inability to stay sober long enough to actually give a damn is a big problem for everybody around him.
Long story short, things take a turn after Kylie becomes determined to not let him end her career before even it starts. Sparks ignite and the two become a couple.
In
Girl On Tour,
Kylie goes on her 2nd tour with Lily a 16yr old singer making big waves and Mia…The chick..well… I can't tell you, you'll have to read to find out exactly who she is. While Lily is sweet young and boy crazy, Mia is just a plain old beeyotch.
While Kylie is away she and Trace keep in touch with texts, phone sex and Skype. Everything is going good then
BAM.
Trace who is fighting to keep his career afloat is told he will be touring with Gretchen Wilson aka the female version of himself. And let's just say things don't go so well after that…
Music was her future. Nothing else really mattered.
-Kylie
Girl In Love
has Kylie solely focused on her music she takes no strides to have a life off the stage or outside of the recording studio. That witty
'tell you like she means it girl'
is gone she's been replaced by a shell of the girl Kylie used to be. She puts on like all is ok but underneath the mask NOTHING IS OK. And this broke my heart to read. Kylie was and will always be one of my favorite heroines so seeing her down hurt my core.
He saw her. She was different. Guarded. Less…something.
-Trace
Trace picks up on it and slowly realizes he played a big part in her change. He wants nothing more than for her to be happy. To be the girl she once was. When these two find themselves having to work together they are tempted to pretty much jump each others bones on site. *GRINS*
"The truth is I want you so bad it hurts. I swear to God, if I ever get to hold you again, I will never let go. Ever. I want to be inside of you so damn bad. I fucking need to be inside of you."
She was quiet for so long that, if his eyes hadn't adjusted to the dark and he wasn't staring at her silhouette, he would've thought she'd left. What was it about whispered conversations in darkness that made people honest?
-Trace to Kylie
Unfortunately both are hesitant for different reasons and as far as I'm concerned neither of their reasons are strong enough to resist all that good loving they can share with each other. *Clears throat* If you know what I mean. When the air finally clears of all the drama Trace and Kylie realize the only ones who can stop them from being together
is Trace and Kylie.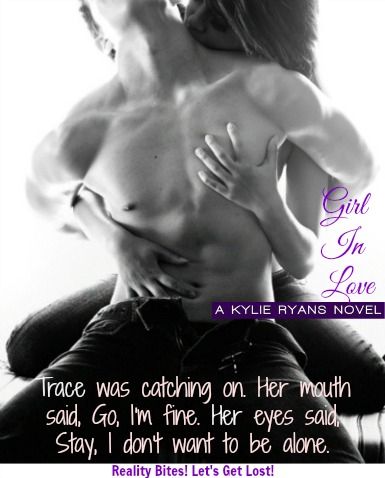 "I'll always come back." The words had just slipped out without his permission.
My Sweet and Sour
My Sweet –
The epilogue, it was
PRICELESS! I LOVED IT!
My Sour –
I felt there was too much drama not enough communication and that is not something I was expecting in book #3 of a series.
My Thoughts
I have mixed feelings about the book overall I thought that it had way too much drama so many things could have been cleared up if these two would have just communicated. On the flip side I
LOVE
Kylie, Trace, Mia, Stephen and Rae! I would love a book for Mia or Rae, just sayin..
My Rating and Why
SPOILER AHEAD
I gave Girl In Love 4 STARS because even though I enjoyed it I felt it was missing something. Add in the total lack of communication which ensued due to that and I just could not see past it. It was too big for me to overlook, tack on the length of time the characters spent apart and well that just makes me more frustrated.
My Ratings
Characters-
Lovable
Writing Style-
Good
Plot/Storyline-
Reunited lovers
Steam Factor-
Medium/Steamy on a scale of 1- 10 I say 7
Overall-
I enjoyed it!
My Recommendation:
I enjoyed this series and I recommend it to all NA lovers!

Now go forth and read. Then come tell us about it!
*ARC kindly provide by the author for an honest review*