Conflicting Interest
by: Elizabeth Finn
Genre: Suspenseful Romance
Released on: January 22, 2014
English teacher Katrina Page's patience is put to the test when sexy detective Dillon Adler saunters into her classroom forty-five minutes late for parent-teacher conferences. Their first meeting is anything but amicable—but they're soon together again in an entirely different and more unpleasant situation.

When Dillon responds to a home invasion and assault, the last person he expects to see is his son's fiery-tempered—and damn attractive—teacher, who has been haunting his thoughts since he aggravated her only days before.

It soon becomes clear that Katrina's attacker's intentions are far more sinister than anyone initially realized and Dillon and Katrina's time together becomes a necessity. But as the investigation heats up and their attraction mounts, Dillon is faced with a choice. Ignore the rules about getting involved with a witness—or risk it all for love.

A Romantica® contemporary erotic suspense romance from Ellora's Cave
SPOILER FREE REVIEW -mature content reader discretion is advised.
3.5 HEARTS out of 5
Genre: Suspenseful Romance
After a not so very good first encounter the last person English teacher Katrina Page expects to see enter her home is Detective Dillion Adler. He received the call and rushed to the scene not knowing it would be his son's teacher scared and hurt that he'd find. Katrina was attacked in her home by a masked man. Dillion's protective instincts automatically kick in; it does not take long for him to figure out that her life is still in danger. Nor does it take long for him to realize he may just have a little crush on her.
Molly laughed. "My little brother's got himself a crush. How cute."
While working the case Dillion's little crush grows in to a need and desire to have her but he can't. Ethically it would be against the rules, he's a detective working her case and she is the victim. At no time should these two be together if it is not in conjunction to the case. Dillion decides to ignore his desires and to instead stay focused on his job which means he must protect her life while he finds out who is after her.
That way of thinking does not last long.
He wasn't treading on thin ice—he was jumping up and down on it, daring it to break through and destroy his career.'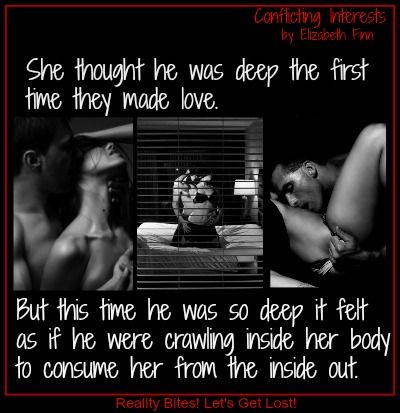 As a psychopath is out there waiting for his chance to make his move on Kat things between she and Dillion escalate. No more fighting it, they cave in.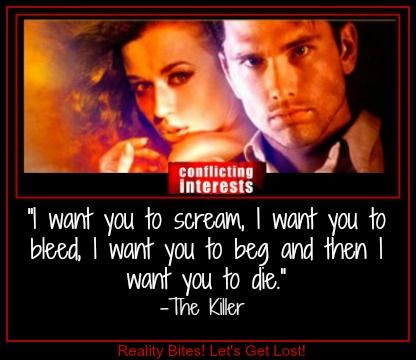 Can these two survive what is coming for her?
How does he plan to keep his job after crossing that line?
And how will this affect his son?
Conflicting Interests
My Thoughts
I didn't fall for Katrina or Dillion as easily as I have for Finn's characters in the past. Both came off a bit dry for me initially. The plot itself was what kept me turning the pages. Who was after this young single teacher and WHY? Katrina lived alone with her cat she has not done anything out of the ordinary to bring attention to herself so it really made you wonder.
There was some awkwardness with them at first because they were obviously attracted to one another yet fought it to the point that Dillion had to say I'm not your friend, I'm the detective working your case PERIOD. Umm, yes, that was very awkward because she knew he wanted her and vice verse. I was very happy when e finally gave in cause honestly they both was in need of a good release *wink,wink*
Elizabeth Finn is at the top for me when it comes to writing sex scenes I'm talking cream of the crop. I like her style and she did NOT disappoint. That scene on the
STEPS… HOT DAMN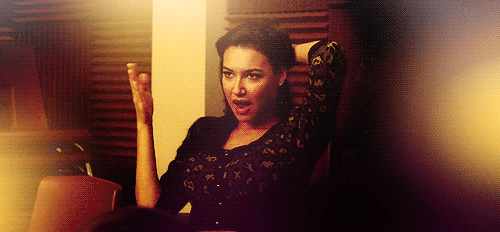 Yes, it was that serious!
My Rating and Why
I gave Conflicting Interests 3.5 STARS because I felt the story line was bit on the predictable side. I also felt like she could have gone in more on the suspense plot line. She only touched on the killer's obsession and I thought she could have delved a bit deeper with it. Finn most likely wanted to allow the romance to outweigh that and I get it.
It also took me a while to get in to the book. The writing was good, the plot was good and the characters were good. But if I put the book down nothing about it had me rushing to get back to it, thus the 3.5 rating.
My Ratings
Characters-
Likeable, sweet and witty
Writing Style-
Good
Plot/Storyline-
Good
Steam Factor-
HIGH/Steamy on a scale of 1-10 I say 8.5
Overall-
I liked it!
My Recommendation:
Check it out!

Now go forth and read. Then come tell us about it!

*ARC kindly provided by Ellora's Cave for an honest review*