The Seduction Of Dylan Acosta
by: Nia Forrester
Genre: Adult Romance-Interracial
Dylan had no idea what she was in for when she married Mets superstar short stop Mark Acosta. Practically overnight, her life changes, and despite her best efforts, Dylan feels herself being pulled deeper into a world of designer clothes, celebrity parties and multi-million dollar homes.

Can Dylan become the quintessential 'baseball wife' and still remain the simple, down-to-earth girl that Mark fell in love with, or will she allow the seductive trappings of her new life to pull them apart
SPOILER FREE REVIEW -mature content reader discretion advised.
4.5 HEARTS out of 5
Genre: Contemporary Romance
If I had to describe this authors writing style in one word that word would be smooth
. I drank this book in as if it was a cool tall glass of water on a scorching hot day. Yes, it was very refreshing and I thoroughly enjoyed it!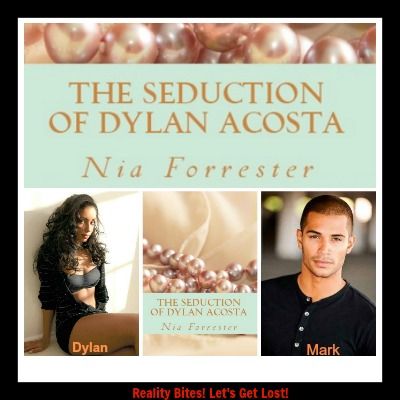 God, who was this man? To work her over in six different ways and then stop because he wanted to look into her eyes? How was it possible that he was out there, undiscovered by some other woman? Dylan pulled him into her and held his face between her hands, kissing him slowly, sweetly, to let him know how much it meant that even in the middle of his pleasure, he remembered to see her.'
By day Dylan is a legal assistant at a law firm and by night she is currently studying for her LSAT's so that she can get in to NYU Law School. A phone call from her best friend has her put studying on the back burner. Dylan never thought that attending a party with her best friend Ava would change the course of her life as she knows it.. But it does. Because the night she put studying aside for a party is the night she meets Mark Acosta. And according to the New York Daily News "The Rookie" referring to Mark, was set to be signing a contract with the Mets very soon.
Mark makes sure he get's Dylan's number and an easy friendship takes root. He is very upfront with her about the fact that his time is limited. With that said Dylan does not have high expectations in fact she continued to live her life as usual all the while being friends with an up and coming baseball star.
WAIT
. Did I mention that he is
HOT AS HELL!
He's described to be 6'2 with a deep dark caramel complexion, well built but not to beefy with eyes black as coal framed by long lashes and smooth velvety eyebrows. OH plus he is Dominican and speaks Spanish during sex. *GRINS* Can you say HELL YES!!
"Have you been thinking about me?" he asked, lowering his voice. His willingness to put himself out there and say things as frank as that got her, every single time. Dylan was pretty damn sure she had never met anyone like Mark Acosta before, and may never again.
She can sense that Mark may want more and yes they are dating but she continues to live as if she was single. After all they are not in a relationship even if it seems that way at times; it is not until he speaks of them being exclusive that she accepts their relationship as such.
Things progress pretty quickly after that, they move in together and soon after they are engaged to be married.
Now married to a newly signed Mets baseball player Dylan finds herself in an exclusive club as a baseball wife. Having no idea what that means really she is now in a world of affluence, where money can buy anything; clothes, jewelry, cars and homes all around the world.
Sometimes money can change people; it can be a quick or a slow process. With Dylan it happens gradually over time. That girl studying hard to obtain entry to law school starts to lose herself in the world of materialism.
Dylan's husband Mark is not a flashy guy; in fact his life style does not change even though his bank account has grown tremendously. He notices the changes his wife is displaying and he questions them however Dylan is good on…distraction. He is aware that money can change people but that's only if you let it.
When things go from BAD to very
VERY
BAD, Mark questions her as a person, as a wife and her loyalty. Is it to him? You'll have to read to find out ;)
This is The Seduction Of Dylan Acosta.
My Thoughts
I ABSOLUTELY LOVED THIS BOOK!
I said it before and I'll say it again, Nia Forrester has become one of my FAVORITE authors! She has a very unique writing style, I call it exploration. In this book she takes her characters on a journey that is very true to life, temptation, ones we can all relate to. Money and how people act to getting it and those around them with money when they are not use to it. She explores their relationship as husband-wife. She is
BIG
on characterization, which I like, A LOT.
Forrester also explores the choices made by her characters and the resulting consequences whether it is good or bad. So for instance what motivated them to act/behave that way? Is the person easily influenced by others? What were his/her feelings behind the action? Yeah *grins* I really dig her style. She never asks these questions out right, instead it is addressed within the story, in the monologue.
My Rating and Why
I gave this book 4.5 STARS because I loved the story, the characters and the writing style.
My Ratings
Characters- Lovable and Sexy
Writing Style- Excellent
Plot/Storyline- Explores temptation, materialism and how money can change people, if you let it
Steam Factor- HIGH/Very Steamy on a scale of 1-10 I say 8.5
Overall- I LOVED IT!
My Recommendation: I highly recommend this to romance lovers especially if you enjoy an interracial romance YUM!
| GOODREADS | NiaForrester.com |