Release Date:
August 28, 2013
Moving to Williamsfield, Georgia is not what she wants … it's what she needs. An escape—from him.
After being brutally abused for years, Sadie seeks sanctuary and safety. But can she ever be safe when evil has his eyes on her from afar.
Landon doesn't want a relationship. He's been burned too badly to want anything more from a woman than the physical, but one look at Sadie and he's rethinking everything.
Can trust be formed when it's been so beaten down? Can love conquer fears? What happens when evil doesn't give up? Can Sadie ever really be safe?
SPOILER FREE REVIEW
-mature content reader discretion is advised.
4 STARS out of 5
Genre:Contemporary Romance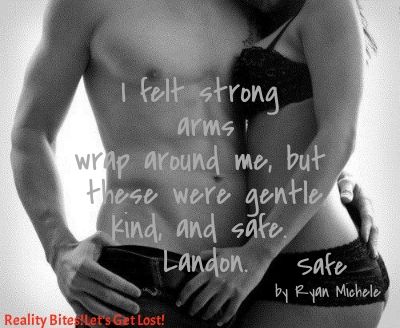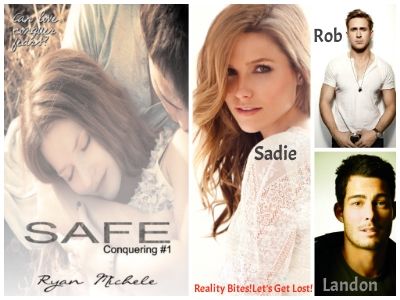 "Sadie?"
"Yeah Momma?"
"He doesn't know where you are; you're safe there."
"I don't feel very safe, Momma."
"I know you don't, but you haven't really felt safe for a while now … yeah?"
Small town girl
With her mother refusing to take no for an answer Sadie finds herself in a small Georgia town after her ex-boyfriend Rob, beats her then leaves her injured,
AGAIN
. Sadie and her mom devise a plan for her to leave Michigan and more importantly Rob. Her new roommate is her cousin Lauryn who tries to question Sadie but she evades with half truths. It does not matter Lauryn is not oblivious to the marks that mar her cousins skin.
Lauryn is very excited about Sadie moving in and it appears that the contractors doing work on the house are too!
Southern comfort
Landon and his family own their own business in the small town of Williamsfield, Georgia where everybody knows each other. He and his brothers are ironing out the details of their latest project when Sadie enters the room. The three brothers practically trip over one another to greet her.
Male attention or should I say men for that matter are the farthest thing on Sadie's mind. However that does not mean she won't enjoy some southern eye candy. *wiggles eyebrows*
After having a bad experience with an ex-girlfriend a few years back, Landon has been a
love'em and
leave'em
kind of guy. Leaving no room for doubt he is upfront about it; this way females know exactly what they are getting themselves in to with him.
PURE-HOT-SWEATY-S E X
. And this suits him just fine until he sees something in Sadie that makes him think he wants more.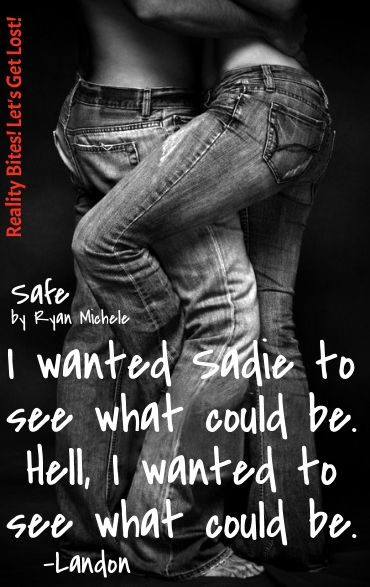 His southern charm is enticing ladies you will eat Landon up!
Attraction is not the only thing drawing Landon to Sadie. He notices her reactions and her hesitancy to certain situations though he has no idea why he does take note of it. He volunteers to show her around town and she accepts his invitation.
'
I lived in fear.'
– Sadie
To say that Sadie is leery of all men is an understatement. She was with a man who beat her unapologetically her fear is felt throughout the entire book. It takes time but slowly her and Landon's friendship grows and they both begin to see more is possible. Neither one of them wants to experience heartache but everybody knows love is a gamble; a chance you choose to take with your heart.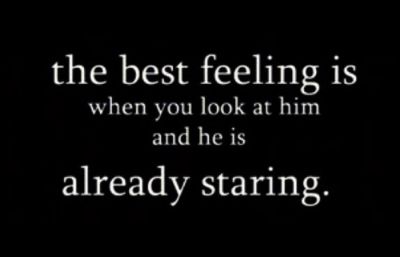 Something happens..Something that I obviously can't reveal. It brings them closer and walls start to come down. And just when everything is good you get hit upside the head with a curve ball. Is there love worth fighting for? And how much more can Sadie take as a shocking revelation comes to light and shatters her.
My Thoughts
Ryan Michele's debut novel brings you a heartfelt story of two people coming together while learning to love and trust once more after heartbreak. Readers should be prepared Rob, Sadie's ex, is a nightmare what he does is unimaginable. And that is all I can say about that...
With Landon and Sadie it may have been lust at first sight but there is a natural progression to their relationship that will sit well with readers. It may also cause you to squirm in your seat a little too.
The chemistry is
ON
with these two and the sex scenes are grade A.
TEASER–
'
She tasted sweet, and I couldn't get enough. Sadie began moving when my tongue reached in deep, and she began fucking my face.'
Yeah, I had to throw that at you. *grins*
The author also does a good job with introducing the possibility of love for Lauryn, Sadie's cousin. Could her crush turn in to more?? Also a lot of things happen at the end of the book and I am anxious to know what exactly happened from a certain character's pov. Now I'm gonna stop before I say to much.
My Ratings
Characters- Lovable (except Rob)
Writing Style- Good
Plot/Storyline- Finding love after heartbreak
Steam Factor- Medium/Moderately Steamy
Overall- I enjoyed it! Read it!
Now go forth and read. Then come tell us about it!

*Copy kindly provided by the author in exchange for an honest *
Giveaway:
Tour Wide Giveaway--$10 Amazon Gift Card & eBook of Safe