Minor Spoilers (none will hinder your reading experience)
-mature content reader discretion is advised.
4 HEARTS out of 5
Genre: Adult Romance Erotica
I can't remember the last time I was this hesitant to start a book. Plus, with so many mixed reviews I had no idea what I was getting myself in to. Am I happy I read VIP? HELL YES! As you read this review I want you to know that I recommend this book as a
Read At Your Own Risk
. Nothing, I repeat,
NOTHING
about this book was easy to digest.
Before I dip in to the story and its characters I want to talk about the writing. M. Robinson has a journey writing style. By Journey I mean that readers voyage alongside the characters as they give us vivid details of their lives. She told the story in first person using dual pov's over an expanse of time from childhood to adulthood which I for one LOVED! No need to give me a background recap or a flashback, nope I get up close and personal with Ysabelle and Sebastian from their earliest memory on up.
Ysabelle is an escort, a to be more exact she's a VIP. What's a VIP you ask, well, VIP stands for Very Important Pussy. *Grins* It's an elite escort service based in Miami yet caters to the wealthiest men and woman all around the world. You cannot just become a VIP, you are chosen by Madam to be a VIP.
Ysabelle grew up living with her mother, under some very
HARSH
circumstances. She has no idea who her father is because her mother has no idea who he is. I guess that's what happens when you prostitute yourself out to various men to gain your drug supply, which is exactly what her mother did.
At 16 Ysabelle decides do what she has to and she hitches a ride to Miami. By 18, she is recruited to be a VIP.
Readers do not get much info on Madam but we do learn that she caters to the elite.
And we're not talking chump change we're talking tens to hundreds of thousands of dollars.
Madam takes care of her girls and Ysa is obviously a favorite.
A few years pass and Ysabelle of course takes to the life like a natural. Everything seems to be going good, better then goo even and then she meets Sebastian.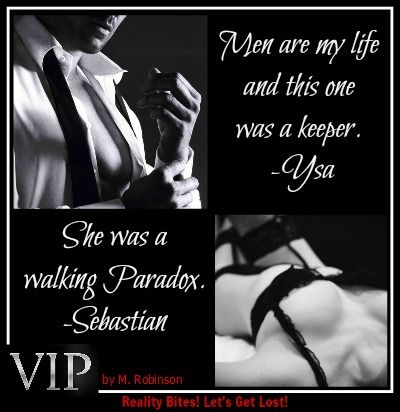 Who is Sebastian Vanwell?
Sebastian is 32yr old married, successful Yacht Broker, the second he lays eyes on Ysabelle his life completely changes and he has no idea it happened until it's too late.
One phone call has him in
deep
, too deep if you ask me.(No pun intended)
While Sebastian wants to believe that his
paid
time spent with Ysa is innocent it's apparent to readers that it is
not
. Readers will know the facts…his past. Regardless, the sexual tension between the two simmers until it finally goes BOOM!
I think I struggled at first with Sebastian's attraction to Ysa because I knew… why he saw her and instantly desired her. Nevertheless whatever motivates these two to be together it allows something deeper to take root; stirring up a fire storm of emotions in both of them.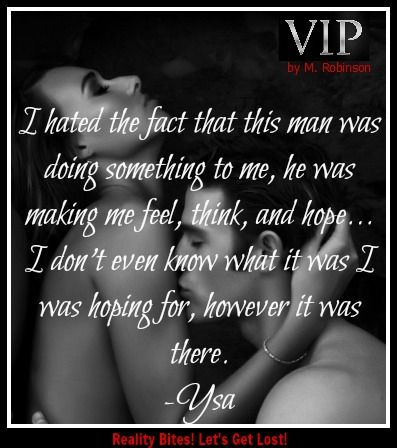 As the love affair progresses, Ysa tries to remember the facts
AHHHHHHHHHHH!!!! I want to say sooooo much MORE! But I can't…
My Sweet and Sour
My Sweet -
I LOVED the way the story is told first person with dual pov's! At certain moments in the dialogue I really felt like Ysa was talking to me.
My Sour-
The editing, honestly the editing is why I gave it 4 stars.
M. Robinson, don't think I did not peep the shout to the Kardashian's with that small mention of the Dash Store in South Beach. Well... not sure if it was a shout out but I noticed it.
Umm..YES folks, The Kardashian's are my guilty pleasure! DON'T JUDGE ME. Your totally judging me aren't you?
Important Questions
1. Why Ysa? Madam said she chose and watched her till she was legal, why?
2. Did Ysa's mom tell the truth does she really not know who her dad is? I mean it's not farfetched considering how she is living but still, I'm curious.
3. Did Julia have anything to do with Olivia's death???
Burning question 4.
Is there ANY relation between Olivia and Ysabelle?
Or is it just a coincidence? Here's the thing, I DO NOT BELIEVE IN COINCIDENCES. Not in story land.
My Rating and Why
4 STARS, I loved the story and how it all unfolded. I got an intense sense of anticipation as I waited for worlds to collide. And when it happens..
HO. LEE. SH*T!.
I enjoyed how the author threw in those curve balls causing you to duck before your head catches a clean hit. And I loved reading about the three amigos and the love triangle to end allll triangles. That whole situation was C R A Z Y.
I want to start off by discussing your heroines and the thought process you had with constructing these characters. Julia, Ysabelle and Madam are all strong willed and strong minded alpha females. Now I for one LOVE a strong female.