I think Jay McLean likes to make me cry..hmm.. Well I did not all out bawl like I did with MTT but I did get all misty eyed. She knows how to hit me right in the
FEELS
with her characters. You see, when I thought it was impossible for me…Jay made it possible….. No one will understand this comment until you read the book.
HINT: it's in reference to a character.
Ha, even with the hint you still probably won't understand after reading the book, well maybe a few.
I want to make this clear, More Than Her is not More Then This part 2. More Than Her IS VERY MUCH Logan's book. Besides the steamy angst and the recurring set of characters this book stands on its own two feet. **lays right hand over heart** And I must say, getting to know Logan is a true pleasure!
In
More Than Her
Jay McLean takes us from past to present in the beginning of the book so that readers can catch up on what's really going on with Logan and his love interest. I must admit I struggled with the beginning but uhh that's mainly because I'm a nosy chick who wanted answers like NOW. Though, I must say reading the banter between Logan and his love interest made for some good entertainment.
Somewhere between 25 and 30% you are caught up to the present and the book
TAKES OFF
like a rocket and when you get to the last page you will keep trying to scroll for
MORE
pages!!!
There is a lot of push and pull filled angst with the main characters; you constantly feel the will they or won't they because he's chasing and she's running. However whenever he gets close enough she has no choice but to yield. Yes, Logan is that irresistible. *wink, wink*
We flashback to when she and Logan first meet in his pov. And witness first hand at how he fell hard and fast with a chick that seems to not be susceptible to his charms. *Smirks* Well, at least she is not allowing him to see that she is.
Giving in to Logan is more like something she simply could not help, the attraction is very mutual. She acknowledges this by giving him a chance. And everything is all good..until it's not.
Logan F's up
BIG TIME
. And correcting it proves to be a task but just like in the beginning when they met she learns that Logan is still very persistent. SHUT DOWN after shut down occurs with her vehemently against giving him that second chance until FATE intervenes. Well fate and Logan's man whore ways get his butt in trouble. When a friend of a friend helps him out Logan is once again face to face with
HER.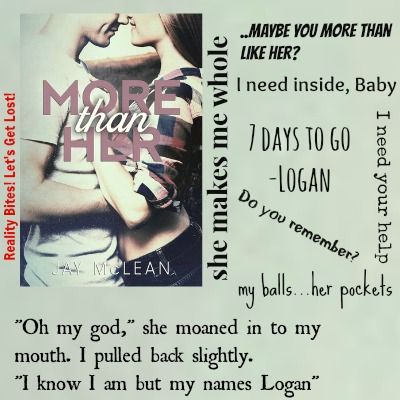 Ok I'm going to shut up about that and just give you my thoughts and feels now before I slip up.
You should however know that I plan to do an extended version of this review days after the release so that I may discuss the characters more freely.
My Thoughts
A-DORA-BLE these two are perfect for one another. Jay leaves no room for error when she put them together. She also does an awesome job with Logan's character and allowing us to get to know him more. I LOVED how he defined his life by the moments and how he explained it to
HER
in the book.
The Writing
For this to be her second novel I thought the writing was pretty damn good. I think it's safe to say that she has a keen trait for writing Angst. But not just angst.. Has anyone else ever read a line in a book and felt like it cut you and you jump back from the physical pain of it? That is exactly what happened to me as I read a certain scene.
This book was filled with some great moments. Hard hitting moments,
EXPLOSIVE
moments. Moments that make you take an extra gulp of air before moving on to the next sentence. There is this one scene where Logan is watching something happen..he takes it in and immediately reacts. **Snaps finger** And just like that with 5 words I was all misty eyed.
I gave this book
5 HEARTS
because I LOVED IT!! Not only did I get teary eyed, I also laughed - A LOT, had a change of heart and fell for a chick. What? It happens,lol!
McLean likes to tease you with her secondary characters, giving just enough to leave you wanting so much more and it's a good thing she plans to deliver.
Jay McLean is an author of Mature YA / New Adult contemporary novels. She enjoys reading and writing books that make people laugh, cry and swoon for dreamy book boyfriends. When not doing ether of those things, she can be found looking after her two little boys and trying to avoid house work at all costs.