Welcome to Reality Bites! Let's Get Lost!!
To enter the giveaway--all you have to do is fill out the rafflecopter below!!
Thank you to Day Dreaming, My Secret Romance and
The Book Tart for organizing this hop.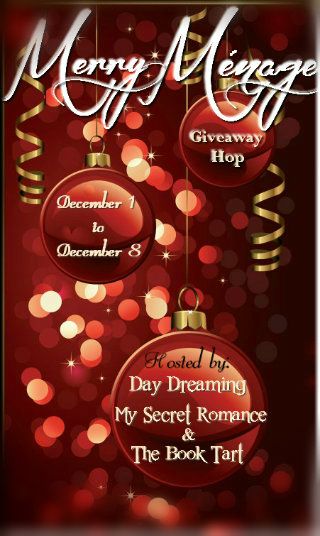 GIVEAWAY!!!
2 eBooks!!!!
Mistress Christmas by Lorelei James
AND
Calling The Shots (Long Shots #4) by Christine d'Abo
First up:
Summary From Goodreads
...all signs point North for not-so-Saint-Nick

A part of the Wild West Boys series.

In a rare moment of recklessness, mild-mannered accountant Holly North lets her best friend guilt her into filling in as Mistress Christmas at Sugar Plums, a Christmas-themed strip club. Fearing she'll be recognized-or worse, considered a fraud-she dons a velvet mask along with the Mrs. Claus-meets-dominatrix costume. She's shocked at how deliciously wicked anonymity feels.

Detective Nick West is determined to discover how his friend was supposedly robbed after a lap dance at Sugar Plums. His visions of revenge vanish faster than a flying sleigh upon his first peek at Mistress Christmas-a leggy brunette with smoky eyes and a lush mouth begging for hours beneath the mistletoe.
Their attraction flares hotter than a fireplace on a cold winter evening, and Nick is only too happy to oblige when Holly blurts out her one Christmas wish... For a naughty secret Santa to sweep her away for a night of anonymous sexual pleasure.

Warning: This erotic comedy contains naughty holiday innuendo, creative use of garland, sexy love scenes hot as spiced cider, a heroine as sweet as sugared plums, and a wildly romantic hero with a great big...candy cane.
My Review Here
Second up!
Summary From Goodreads
He's had a wild ride, and now sex club owner Josh Scott is looking for a change of scene. But first, he's determined to bring two friends together, and he's willing to be a third wheel to move things along...

Beth Norris is eager to be set up with hot bartender Oliver Stephenson, but she's equally attracted to matchmaker Josh. Soon she's fantasizing about both men at once—and about being the one to call the shots in the encounter...

Ready to move on with his life post-divorce, Oliver is conflicted by the realization that he's attracted to women and men. Or more specifically, to Beth and Josh. He tries to keep his distance, but it's not long before the chemistry between the trio combusts in a night of mind-blowing sex.

In the light of day, it's clear something deeper than desire is growing between Josh, Beth and Oliver. But though Josh has helped others find love in unconventional relationships, is he willing to take a chance on one himself?
My Review Here
a Rafflecopter giveaway
After filling out the raffelcopter above, keep hopping!!