Barely Breathing (The Breathing Series #2)
By: Rebecca Donovan
"I've spent most of my life trying to make it to a future that still hasn't happened, or avoid a past that won't let me go. I don't remember when I've ever just stopped to live in the present, to hold on to the seconds I'm in."
Emma Thomas's struggle with an abusive home life came to a heart-pounding conclusion in the final chapters of Reason to Breathe, the first installment of The Breathing Series— Rebecca's Donovan's bestselling romantic-thriller (USA Today). Now her secret life has been exposed, and her tormentor can't hurt her anymore. Yet some are still haunted by that night. The bruises may have faded, but scars and fears, remain. How will she reclaim her life when she's barely breathing?
I can not believe after reading this book a second time how I could ever rated it only three stars. I think in the past year, I have grown to truly appreciate the art that is Rebecca Donovan's writing even more than I did the first time. My review remains the same though. I am still angry at Emma for decisions she made in this book. But I think retreading it gave me a better understanding this go round of why she did what she did. She truly did believe that those decisions were in everyone's best interest. But I can only hope that she will have a chance to rectify those mistakes in book three and make amends for the hurt she caused. More importantly, I hope Emma finds forgiveness and love for herself.
My Review from June 2012
This is the first book review I have ever written. Out of the hundreds of books I have read throughout the years I have never felt as compelled to write one as I do with this book. This book made me feel so many things I honestly had to remind myself it is only a book....
So why the 3 stars you ask? Because I am still in the "anger" stage. Obviously all those pep talks of trying to remember it is just a book didn't work. And I know there is a 3 rd book that will be released eventually but right now my brain and heart just don't care. I hate being left with this feeling of no closure with anyone in Emma's life!
I am sure after I have had some time to calm down and reflect I will want to come back and change my rating to reflect how I truly feel about the book.
In closing, I will say that it is rare for a book to truly touch me in the way that this series has so far. I feel like I have been on an emotional roller coaster for the last 2 days. So for that I have to say THANK YOU to Rebecca Donovan for being such an amazing author who has a way of pulling a reader into her books and making them feel right along with the characters.
QUICK REVIEW -Spoiler Free
4.5 HEARTS
Genre: YA Romance-Mature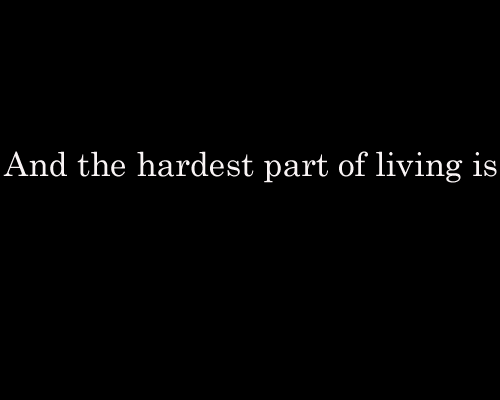 'His smokey blue eyes connected with mine, and he whispered,"I breathed for you"- Evan in Barely Breathing

What are you trying to do to me Ms. Rebecca Donovan?!?
So many emotions run through me after finishing this book.... Then an abundance of questions...

Barely Breathing takes place six months after the ending in the first book Reason to Breathe and that painfilled night, better known as "the night from hell." Emma is a survivor her aunt Carol is in prison and she has no idea where her uncle and two little cousins are. Emma is staying with Sara and her parents Anna and Carl who are now given guardianship til she is 18 in June. Emma decides early on in the book that she wants to live with her mother Rachel who is currently living in Weslyn. No one is a fan of this idea but it is allowed by Anna and Carl with an open door policy that Emma can come back whenever she wants.

Emma soon realizes this will not be easy her mother is an alcoholic who likes to get in a drunken stupor and bring home random guys from bars to sex it up. Emma begins to hide things from her bestie Sara and her sweet, handsome and caring boyfriend Evan. But neither is a fool. When Rachel settles on young boyfriend Jonathan he befriends Emma. Jonathan and Emma soon realize they have a few things in common that includes being abused by someone who should love you instead of hurt you and nightmares that haunt them filled with pain.

While Emma struggles with her existence/reason for breathing she still has to take care of her drunk mommy, school,sports and her sanity. Her sanity which is wearing thin thanks to Rachel and her drunk hurtful comments that she can never recall once sober. A relationship starts to build with Emma and Jonathan that she can't explain. And a new girl at school Analise is pushing up on her man Evan on the sly. The last 25% of this book has twist and turns i could have never predicted and the ending was a TOTAL SHOCKER.

MY CASTING
I am loving this series and i think Ms. Donovan did an awesome job this is a page turner that left me gripping my nook. I cannot wait for book 3 this ending was not the one i wanted.

My Ratings
Characters-Lovable and Witty
Writing Style- Solid, Raw and Effectual
Plot/Storyline- Raw, Honest and Potent
Overall- A MUST READ
Now go forth and read. Then come tell us about it!
REASON TO BREATHE

(Book #1 of The Breathing Series) BUY

LINKS
BARELY BREATHING

(Book #2 of The Breathing Series) BUY

LINKS
Emma leaves Weslyn and everyone in it behind to attend Stanford University, just as she always intended. A shell of her former self, she is not the same girl. She is broken, and the only way that she'll be whole again is through forgiveness. Emma must find a way to forgive herself and recognize her own worth before she can receive the love she deserves. This final installment will have readers holding their breath until the very last page.
OUT OF BREATH (Book #3 of The Breathing Series) PRE-ORDER LINKS