SPOILER FREE REVIEW -mature content reader discretion is advised.
4 HEARTS out of 5
Genre: Contemporary Romance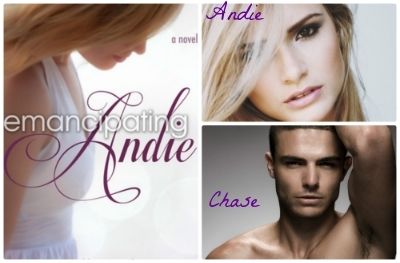 "You've got some serious control issues," Chase said, the words out of his mouth before he could think better of them. "Excuse me?" Andie said. "You don't even know me. So don't—" "You're right, I don't know you," he said, cutting her off, his own voice rising in spite of himself. "All I know about you is what you're showing me. And right now, with the way you're acting? With your rigid driving plan, and your 'nobody drives but me' nonsense? What you're showing me is that you have control issues. Hardcore, grade A, first-rate control issues." ~Chase

Andie Weber lives her life in a straight line and she has no plans to deviate from it. Everything about her life screams "I love to play it safe" She has high walls carefully placed up to protect herself. These walls assist her need to be in control. These walls guard her heart and keep it safe. These walls contain her safe house. But one road trip with the free-willed and spontaneous Chase McGuire has her walls tumbling down and opening up to the different possibilities that life has to offer outside of her safe house.

"Are you telling me you've never done something just for you? For no other reason besides the fact that it was what you wanted? Screw consequences?" ~Chase

A road trip with a pretty girl you are attracted to isn't so bad right? Well umm, maybe, if said girl has a boyfriend annnnd said boyfriend is your friend. Yup, that could pose a problem.
Chase does not necessarily fight his attraction to Andie.. He knows she is off limits because of who she is; the girlfriend of his friend Colin. That alone should be enough to hold him off yet the attraction builds the more he get's to know her with every mile gained towards their destination.

"I'm ready to face my consequences, Andie. I just want you to be sure," he whispered, his bottom lip grazing her top one. "I want you to think about what you'd be giving up." ~Chase to Andie

Andie decides playing it safe is no longer the route she wants to travel. She also decides that Colin may not be the person she chooses as her traveling companion. Can carefree Chase be the one for her? Or does his appeal to her solely lie in his spontaneity?

My Thoughts
The love story has a slow build, way slower than what I am use to. And the steam in this book was on a
light simmer but I loved it all the same. I have to admit that although the steam was not my usual there was this one seen were he says

"One day I'm gonna take you up here." Andie turned her head slightly to look at him. "Aren't we already up here?" Chase shook his head. "One day I'm gonna take you up here," he said, running his hands down over her hips as he pulled her body back against his. Andie groaned softly as her eyes fluttered closed. "Then do it," she whispered, turning in his arms and wrapping hers around his neck. "Take me."

So G O O D!
The writing is good and the story has a realistic feel to it. If you enjoy romance I highly recommend that you READ IT!
My Ratings
Characters- Sweet, I loved them
Writing Style- Good
Plot/Storyline- A page turner
Steam Factor- Low on a Light simmer
Overall- I enjoyed it! READ IT!!

Now go forth and read. Then come tell us about it
!
*Copy kindly provided by the author for an honest review*
Priscilla Glenn lives in New York with her husband and three children. She has been teaching English Language Arts at the middle and high school levels for the past eleven years while moonlighting as a writer, mommy, coach, student, and professional laundry-doer.
If you catch her when she's feeling sophisticated, she'll tell you her favorite things are great books and good wine. In the moments in between, she'll admit her love for anything Ben and Jerry's, UFC fights, and Robert Pattinson.
Emancipating Andie
is Glenn's second novel. She is also the author of the contemporary romance/young adult crossover, Back to You.
a Rafflecopter giveaway
http://wp.me/p20ttU-1iz