Charli Monroe is a heiress new to the small Texas town where she has just bought a ranch. She has a past as a runaway among other things and would prefer for her past to stay exactly where it is; in the past. She is young, ambitious and has a bigger agenda for her land then just raising cattle and ranching. She has a secret. And Charli also has a plan, one that has everything to do with her misguided past.
Unfortunately Charli has no idea that she has just stepped in to a family war over the land she now owns. Her new ranch manager Dylan Quinn takes on the task of helping Charli rebuild a ranch that has been in his family for generations.

"I had no way of knowing I'd stepped into the feud between Forest County's own version of the Hatfeilds and the McCoy's"
~Charli
Well she did, and Dylan let's her know it. Dylan is ex-military he was a special forces commander but learned everything there is to know about ranching from his grandfather. Dylan's sister Tracy, whom he currently lives with is the one who told him to apply for the job at the ranch. She is tired of watching her brother waste away.. Dylan spends most of his days getting drunk and nursing the wounds of his broken heart courtesy of his ex-wife.
The relationship between Dyaln and Charli is rocky at first both have fragile hearts and were once wronged by lovers. Slowly these two become friends and eventually lovers. But Dylan is not the only one who wants Charli. Her neighbor Leon who owns the ranch next to hers and who also just so happens to be Dylan's uncle has his sights set on Charli. Leon is rich and Dylan starts to feel inferior. Miscommunication or rather lack of communication puts Charli in Leon's arms. Though internally she admits that she would have not chosen his arms to be in...
Dylan questions Charli's feelings for him when he spots her and Leon kissing. He assumes that Leon is the one she wants. This of course creates some drama. A LOT OF DRAMA.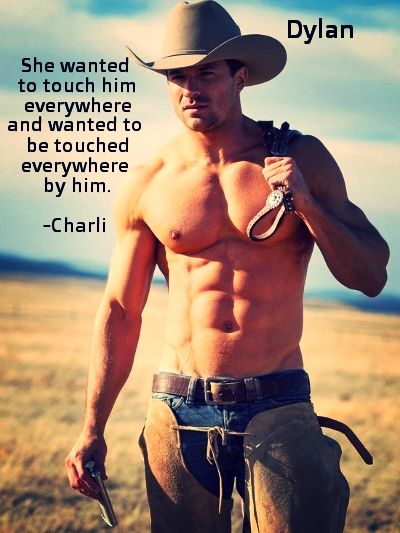 '
Like a monk, he'd fought the lust burning him alive since the first day she answered her door wearing a robe. As he worked, he hadn't missed the desire smoldering in her tilted turquoise eyes. Could even a monk continue to resist temptation with the knowledge an angel wanted him as much as he wanted her?'
~Inner monologue of Dylan

"Right or wrong, good or bad, I want to have sex with you right here and right now."
~Dylan